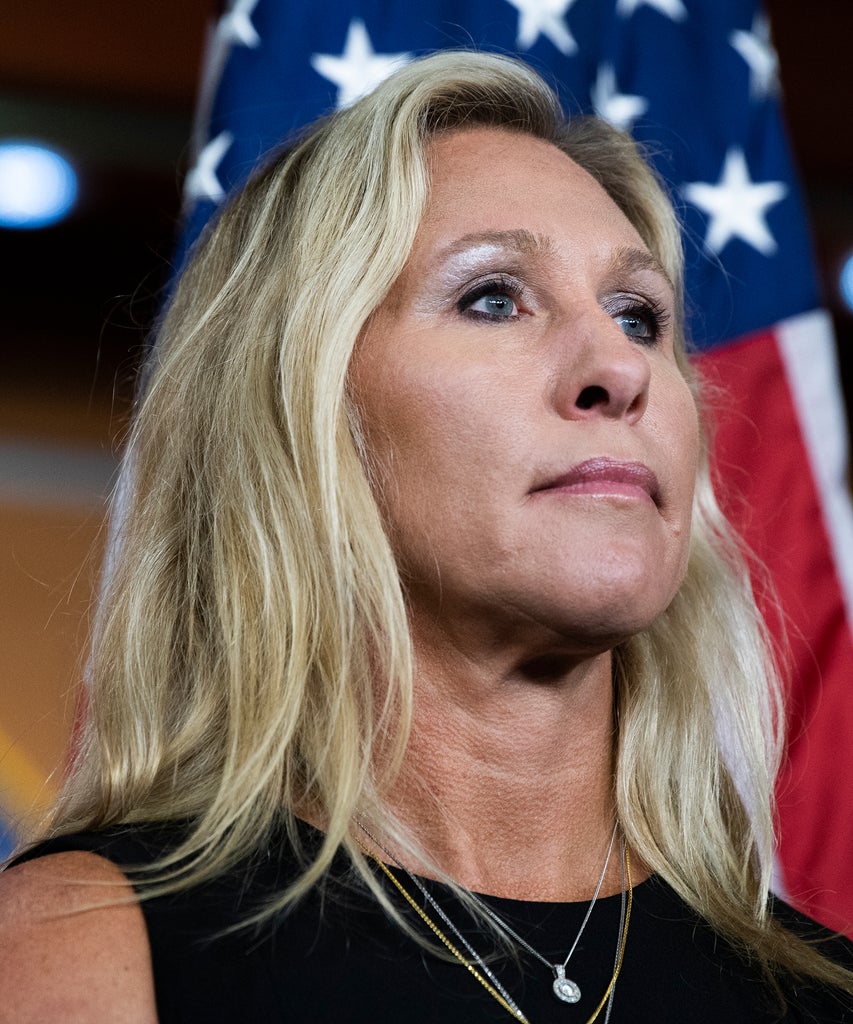 On Thursday, in opposition to a recently passed bill that would ensure veterans receiving health care through the Department of Veterans Affairs would have access to contraception at no cost, Rep. Marjorie Taylor Greene (R-GA) conflated Plan B with abortion pills — to the shock of literally no one.
"Contraception stops a woman from becoming pregnant. The Plan B pill kills a baby in the womb once a woman is already pregnant," the QAnon conspiracy theorist said on the House floor. "Equal Access to Contraception for Veterans Act is not contraception, it's providing with taxpayer dollars the ability for women to have an abortion." 
But like most things that Greene says, that simply is not true. A 2012 study published in the journal International Federation of Gynecology and Obstetrics declared that Plan B does not inhibit implantation, nor does it act as an abortifacient. In fact, studies have shown that all Plan B does is work to prevent ovulation and, as a result, fertilization. And that does, in fact, make it a form of contraception: emergency contraception.
"Simply put, emergency contraception prevents pregnancy whereas abortion pills end pregnancy," Dr. Ghazaleh Moayedi, OBGYN and Complex Family Planning Specialist, tells Refinery29. "There are several types of emergency contraception available in the United States, each of which works slightly differently, but all of them prevent pregnancy from happening. Even if you're already pregnant, Plan B cannot end a pregnancy."
Greene: I'd like just to take a minute and remind everyone that words matter… Contraception stops a woman from becoming pregnant. The Plan B pill kills a baby in the womb… pic.twitter.com/LRTRkexNxh

— Acyn (@Acyn) June 24, 2021
Meanwhile, abortion pills — mifepristone and misoprostol — are two separate medications that when taken together work to both stop a pregnancy from growing and help the body pass the pregnancy, much like a miscarriage. The first pill, mifepristone, blocks the pregnancy hormone progesterone, which causes the pregnancy to stop progressing. This pill is usually taken at a doctor's office or abortion clinic.
"Mifepristone, the first medication of the abortion pill process, is a strong progesterone antagonist," Dr. Moayedi explains. "It blocks the action of progesterone in the body and therefore prevents progesterone from sustaining an early pregnancy. "
The second pill, misoprostol, is taken 24 or so hours later, often at home, and causes the cervix to soften and the uterus to contract so that the pregnancy can be safely expelled from the uterus. But neither of this pills have ingredients found in forms of emergency contraception like Plan B.
Abortion pills also have a long, separate history of usage in the U.S. — and for good reason. In 2017, medication abortions were used in one-third of all abortions that occurred in the United States, according to the Guttmacher Institute. Due to Food and Drug Administration (FDA) guidelines, medication abortions are only able to be used in the first 10 weeks of pregnancy, though studies have shown they can be effective long after. A 2015 study found that medication abortions are 95% effective, and a 2018 year study found that they're incredibly safe. During the ongoing COVID-19 pandemic, medically unnecessary medication abortion restrictions were lowered, allowing people seeking abortion care to obtain medication abortions from the safety of their homes rather than having to travel to a doctor's office.
This is why, though, GOP lawmakers like Greene continue to conflate contraception like Plan B to abortion pills: misinforming the public is one of the only weapons anti-abortion proponents have in curtailing access to abortion care. Whether it's forcing doctors to lie to their patients about the safety of abortion, to using misnomers like "heartbeat bills" to pass laws that would make abortion illegal past 6 weeks (when an embryo does not have a heart, but rather pulsating cells ), these long-used — and sadly, often successful — tactics are merely right wing talking points.
"Anti-science, anti-abortion politicians are not only intentionally ignorant to the basics of human reproduction, but they also aim to confuse the public about reproduction in order to advance extreme agendas," Dr. Moayedi says. "Contraception and emergency contraception prevent pregnancy, before pregnancy has happened. Abortion, miscarriage, and birth end pregnancy, once pregnancy has happened. You must be pregnant to have a miscarriage, abortion, or birth."
Moayedi says these are basic scientific facts that don't matter for anti-abortion politicians. "Their aim isn't to actually understand or use science — they aim to conflate contraception with abortion as a means of further stigmatizing and shaming people that have abortions and provide abortion care," she says.
So it's just not that Greene — who thought the Sept. 11 terrorist attacks didn't happen, and the Parkland shooting was a hoax, and believes wildfires are started by Jewish space lasers — is now well-versed in her own court talking point about contraception and abortion; she likely does know the difference between Plan B and a medication abortion (assuming she has figured out how to Google things). What is clear is that Greene is happy peddling anti-science, anti-reality lies about health care in all its forms, including abortion care, as she carries the GOP torch of advocating for government mandated force birth. 
For a woman who believes her civil liberties are being denied to such a degree when she has to wear a mask during a global pandemic that it warrants a comparison to The Holocaust, she sure does want the government to force people to get pregnant, stay, pregnant, and give birth. Weird.
Like what you see? How about some more R29 goodness, right here?
Marjorie Taylor Greene Is Sorry, Apparently
Marjorie Taylor Greene Harassed AOC
Marjorie Taylor Greene & Matt Gaetz Joined Forces