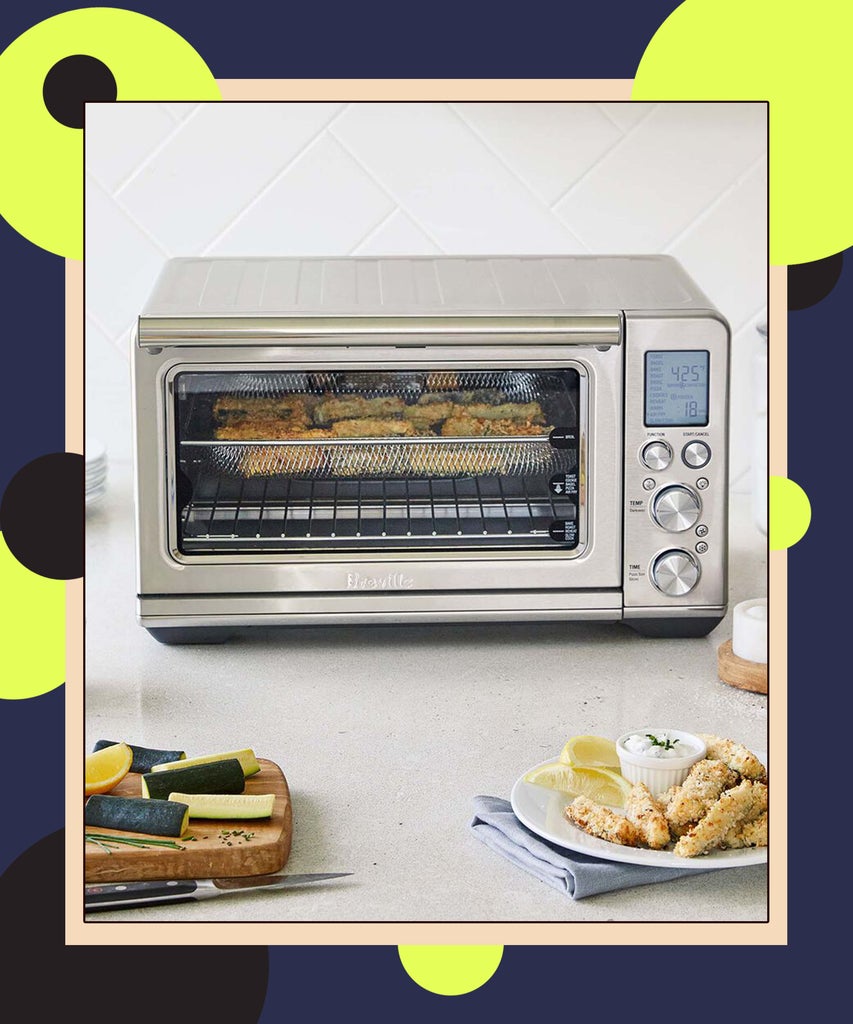 Air fryers took over the pandemic with the help of out-of-the-box TikTok recipes, but toaster ovens (which, it should be said, often have built-in air fryers) are here to stay. These mini countertop cookers bake your favorite treats from personal pizzas to breakfast bagels and can even whip up a juicy roast chicken — no extensive preheating or extensive countertop space required. With temperatures dropping and our desire for freshly baked homemade cinnamon rolls skyrocketing, we think it's time to look at the best toaster oven for any and every budget.
Whether you prioritize your kitchen's aesthetic or your eyes light up at a high wattage level, there's a toaster oven made for you on the web. Read on for our carefully scouted selection of these ultimate time-saving kitchen appliances. We still love our reliable microwaves and trendy air fryers, but good ol' fashion toaster ovens never fail to get the job done right.
Best Toaster Oven + Air Fryer Combo
You've heard of two-in-on, well how about twelve-in-one? This single contraption has 12 presets — Pizza, Roast, Airfry, Toast, Bagel, Bake, Broil, Cookies, Rotisserie, Dehydrate, Ferment, and Keep Warm — so you never have to fret over what to make for dinner again. And, according to customer reviews, the air fryer preset combined with the built-in rotisserie function makes a great roast chicken.
Shop Amazon
Best Small Air Fryer
We'll admit, some air fryers can take up a not-so-ideal amount of space on your counter—but not this 16-inch long roll-top toaster from Hamilton Beach. Despite its small size stature, this oven can bake, broil, and toast bagels, mini pizzas, and other small meals. It's perfect for college students, small apartments, and even RVs for travel.
Shop Amazon
Best Large Toaster Oven
As lovely as counter space is, so is a piping hot 12-inch pizza. This toaster checks in at 18-inches long and can fit up to six slices of bread at a time or, as mentioned, a 12-inch wide pie. According to one reviewer, its settings are also "very user-friendly and customizable," and they would "100% recommend!"
Shop Bed Bath & Beyond
Best Looking Air Fryer
The chicest toaster oven on the list just happens to also be one of the cheapest. This light-blue retro appliance not only looks great in a kitchen but also makes great food. It has eight functions (toast, bake, broil, warm, roast, pizza, dehydrate, and convection), a wire rack, a baking pan, a removable crumb tray for easy cleaning.
Shop Walmart
Best Toaster Oven For Baking
Rather than roasting a chicken or air frying a few potatoes, this upscale toaster was made to bake fresh loaves of bread. When you're not using Balmuda's hi-tech and moisture-locking steam functions on fresh dough, you can switch to its oven mode for cookies, gratins, and reheating frozen food. If you're not buying it for yourself, it's definitely a great holiday gift.
Shop Williams-Sonoma
Best Fast Toaster Oven
The fastest toaster ovens also happen to the be smartest. Breville's Smart Oven Air Fryer has 11 presets and dual-speed convection that can reduce cooking time by 30%. But what really makes this toaster a smart cookie is its Element IQ system that easily creates the ideal cooking environment for each preset — and the LCD display is a fancy bonus.
Shop Sur La Table
Top-Rated Toaster Oven
It's one thing to have a high rating, but it's even more impressive to have an equally high number of reviews. With 4.6 out of 5 stars and 6,759 ratings on Amazon, Panasonic's FlashXpress toaster is a safe bet for your kitchen.
According to one happy customer: "I absolutely love this thing. It's so convenient for cooking smaller meals that you don't want to heat up the oven for. I love roasting mushrooms and other veggies in it since it's super quick. It also toasts super evenly and reheats food so much better than the microwave. We hardly use the microwave anymore! My husband was super skeptical of this thing and was sure it'd just be another dust collector but he absolutely loves it as well."
Shop Amazon
At Refinery29, we're here to help you navigate this overwhelming world of stuff. All of our market picks are independently selected and curated by the editorial team. The product details reflect the price and availability at the time of publication. If you buy something we link to on our site, Refinery29 may earn commission.
Like what you see? How about some more R29 goodness, right here?
Cheap & Useful Ways To Make Your Kitchen Look Luxe
15 Cozy Amazon Holiday Goods The Internet Should K
A Guide To All Those Eco-Chic Cookware Brands