Have you been scrolling TikTok? Chances are you've stumbled across a catchy "jiggle jiggle" rap by  Louis Theroux. His rap has been accompanied by creative dance and theatrics on the popular social media platform. 
If you've missed out on the smooth tune until now, here's what you need to know.
Theroux, a 52-year-old British-American documentarian and son of the famous novelist Paul Theroux, wrote the rap in an episode of his BBC 2 documentary series Louis Theroux's Weird Weekends. The episode first aired in the year 2000. Theroux's novelty rap found a new audience after a February 2022 episode of the YouTube series "Chicken Shop Date," in which vlogger Amelia Dimoldenberg asked Theroux to reprise his original rap a capella. 
This is the TikTok rendition of the jiggle-jiggle song we've been hearing. Thanks to Manchester-based producers Duke and Jones, it's also no longer a cappella. They released their music-accompanied video on March 16 and it has received over 50 million views since then.
https://www.tiktok.com/@dukeandjones/video/7075729137423387910
A million likes after and this track is gold.
What was the source of the lyrics' inspiration? According to Weird Weekends, the words "jiggle," "wiggle," and "dribble" came to Theroux in the shower.
One of the rappers who worked with Theroux on the single expounded on the music's renowned opening phrase, "My money don't jiggle, jiggle, it folds," on the show.
He explained, "You don't have quarters, dimes, or nickels; you have dollars, hundreds, and whatever you have." "And everything you have folds."
If you're looking for more of Theroux's raps, we've got you covered. A second verse to the jiggle-jiggle rap has been issued by the BBC. A clip from Louis Theroux: Life on the Edge, a current series from Theroux that looks back at his earlier work resurfaced.
https://twitter.com/BBCTwo/status/1302675432064442368?s=20&t=0VvdXnSoUZefIKRaX15HPg
The documentarist is a "national treasure in the United Kingdom," according to Duke and Jones, who are true names Luke Conibear and Isaac McKelvey.
"We didn't watch ['Weird Weekends'] when it first came out because we were approximately three years old," the DJs explained via email, "but the series went on Netflix for a bit when we were in high school and became quite the phenomenon in our social group."
The "Jiggle Jiggle" remix not only helped the duo gain popularity on TikTok, but it also helped them land a record deal with Sony Music UK's Robots + Humans imprint.
[caption id="" align="aligncenter" width="500"]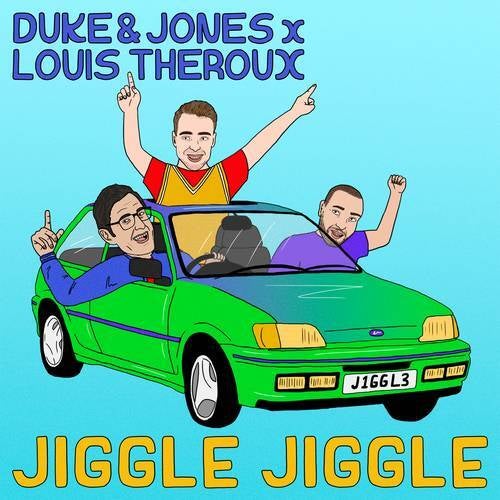 Duke & Jones & Louis Theroux "Jiggle Jiggle" album cover[/caption]
Duke and Jones were childhood friends who enjoyed playing FIFA, eating grilled cheese sandwiches, and fiddling with beats on Logic. They gained notoriety after mastering Logic's built-in pitch correction plugin with a TikTok series called "adding autotune to random videos." Duke and Jones would go through old cartoons and TV interviews for clips to play with, similar to American comedians the Gregory Brothers, who invented the "Auto-Tune the News" routine.
"We found that both of these groups spoke pretty rhythmically, and struck a far wider range of notes in their speech than usual talking, so that gives the autotune more to deal with," Duke and Jones explained.
On the same show, however, Theroux issued a disclaimer for his rhymes: "If you take hip-hop quite seriously, making a comedy rap is quite sacrilegious."
They claimed that Theroux's steady, orderly flow was ideal for a remix. Later, the duo created an extended remix using an additional clip they discovered, which had Theroux rapping on U.K. In 2018, he hosted "The Russell Howard Hour," a late-night talk show.
Is it possible that Theroux wants to pursue a hip-hop career? If that's the case, Duke and Jones will stay on standby.
They said, "We haven't yet played the autotune remixes at clubs." "However, we may have to make an exception for King Louis and include him someplace in the set."